Meruca's Anime Review: Nana

Hello Everyone! I am back with another anime review. Today I will be telling you all about the anime Nana and how I felt about the story, as well as the art, voice acting, and music. I hope you find this informative and it gives you the reasons you need to either watch it or avoid it as you see fit.
I review the English dubbed versions of anime. There are spoilers in this anime. If you do not wish to read the spoilers and you want to go straight to the review, just skip down past the synopsis and read the review. Both sections are titled in large bold words.
Synopsis
The show follows two 20-year-old girls who both have the same first name(Nana). They both end up moving to Tokyo on the same day, for different reasons. They somehow manage to end up on the same train and getting stuck in the snow. This means that they have to get to know each other a bit and they become acquaintances rather than just strangers. One is a punk rock singer while the other is a love-lorn girl who continuously was getting into relationships with older guys and later realizing that this was a bad idea.
Punk Nana is going to Tokyo in order to jump-start her singing career. Girly Nana is moving so that she can be with her college boyfriend that is actually her age for once. The two girls end up checking out the same apartment at the same time led by two different realtors. And those realtors where twins!!! No I'm just kidding. much to the dismay of the other, one of the realtors suggests that they become roommates to save money as the apartment is built for a roommate situation and the rent would be halved.
Their stories are told both separately and intertwined. Punk Nana was abandoned by her mother as a child and was raised by her grandmother. This woman made Nana work in her restaurant for free. She also did not want her to be like her mother was, so she would not allow her to wear any seductive colors like pink or red. So, when grandma died, 15-year-old Nana went out and bought a bright red dress. She wore it to her first concert where she met the love of her life(the bass player for the band, Ren). She joined the band as their singer and they became known as Black stone (Blast for short).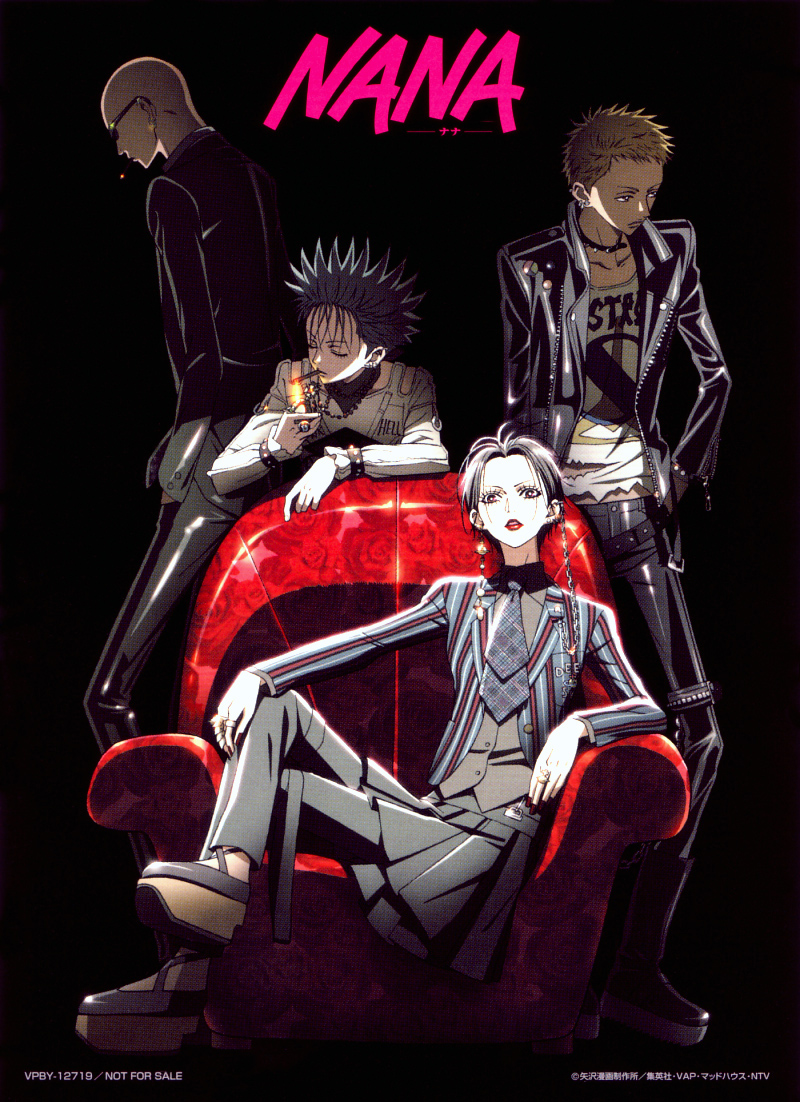 Rin ends up moving to Tokyo a couple of years later to pursue his art with another band (Trapnest) that was already becoming popular. Nana refused to be a house wife and wanted to be known for her voice, not as his girlfriend. So, she decided to stay and they unofficially broke up(because they never actually said the words but they just knew the distance would ruin the relationship).
After moving to Tokyo, she eventually meets up with him and despite herself, she can't keep from getting back together with him(even though she is not famous yet). Their love life is eventually revealed as some kind of scandal to get Nana and her band famous. Nana had no idea it was happening because she didn't have a T.V. at the time.
Girly Nana's college boyfriend ends up cheating on her. She eventually gets over him and falls for the brains behind Trapnest, Takumi, who is a womanizer (and she actually knows this in advance). She knows he does not really care about her, but it takes a while before she finally tells him to never call her again.
She falls for one of Punk Nana's band mates (Nobu). Girly Nana and Nobu make a very cute couple and everything is great between them untill she realizes that she got pregnant sometime between the last time she was with Takumi and now when she is with Nobu. She knows it has to be Takumi's because she used Condoms with Nobu and not with Takumi. This means she has a choice to make because Takumi proclaims that he will support the child, regardless of who the father is, but Nana is in love with Nobu. For the sake of her child, she chooses to go back to Takumi.
Nana and Nobu
Nana and Takumi
Punk Nana does freak out for a while, but in the end she supports her friend. Nobu was extremely heart-broken. He even still loves her years later.
The ending is a bit vague. Girly Nana does get married to Takumi and has a little girl who looks just like him. Punk Nana was supposed to marry Ren, but they do not show it. They just show the group getting together at Nana and Nana's old apartment to see the fireworks 10 years later. They mention that Ren is on his way. They show Nobu grabbing Girly Nana's hand and seeing the wedding ring and band. They do not, however, mention Punk Nana at all. They do not tell what happened to her. Dead maybe? It's unclear.
Review
The Story is a bit slow, but it pulls you in regardless. Punk Nana's intense love interest is unfortunately the only interesting thing about her story until later on in the show. The show is actually self-aware of this fact as they center around Girly Nana. Girly Nana's story will have you wondering what will happen next. Her ups and downs will infuriate you and have you yelling at the screen, "WHAT THE HELL ARE YOU DOING!" However, it is told so well, you can't help but be sucked in by it and you will crave more.
The ending is a bit odd and leaves you with a few questions, but it's still good and a rather intense with mixed emotions.
The Voice acting in this show was actually surprisingly good for being in English. The voices fit the characters well and I can even believe that Punk Nana's voice-over could actually sing the songs. There where not too many voices that where off. That served to intensify the mood of the entire show.
The music for the show was also done rather well. They only did a couple different songs for the bands. This kept things simple. The song choices for this where fantastic. They seemed to fit the two groups rather well. I also liked the fact that even though the show is in English, all the songs are in Japanese.
Now for the art. Every now and then something looked a bit odd, but that was few and far between. For the most part, the art was fantastic. This anime has some of the most unique art i have seen. the artist did their own style for it instead of conforming to the vastly overused similar art styles of other anime. The color hues where now only dark when they needed to be and light during happier moments, but they where also simple when the mood called for something a little more silly. The art style is amazingly detailed and it looks beautiful. The art style, the color, the shading, everything; it all came together in each scene, telling you, without even hearing anything, the mood of the events about to unfold before your eyes.
Overall the different aspects came together to create a fantastic story for both your ears and your eyes. It is very easy to relate to at least one event that happened to one of the main characters. I give this anime a 9/10. while it is not perfect, it was an amazing experience to watch. It has unexpectedly become one of my top anime. For Drama, heart wrenching love stories, and punk rock, Nana is a must see anime.